DJ Shadow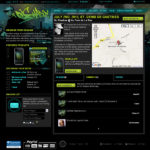 DJShadow.com is now integrated with Topspin Media for merchandise, downloads and newsletter signups.
September 8, 2010 — Twitter app developed for DJ Shadow.
June 21, 2010 — A Drupal module has been developed for DJ Shadow integrating the Mobile Roadie API with his web site and connecting it to the DJ Shadow iPhone App.