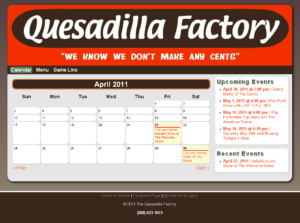 The Quesadilla Factory and Game Linx arena is local food and entertainment venue featuring (of course) quesadillas, garlic fries, elephant ears, smoothies, old school arcade games, pool and other table games, network console gaming and concerts. They also host parties, repair gaming consoles (XBox, PS, etc.) and fix smart phones. And it's a most excellent place to frequent at … which we do.
After reviewing several calendar plug-ins, a simple custom calendar plug-in was developed that extends on the built-in WP calendar widget with a template tag, adds a custom event post type that displays future dates and includes upcoming and recent events widgets.
A custom theme was developed around the calendar plug-in and modifies the standard site RSS feed to post upcoming event items. The layout heavily utilizes newer CSS3 features including drop shadows, background gradients and curved corners that render on modern browsers.