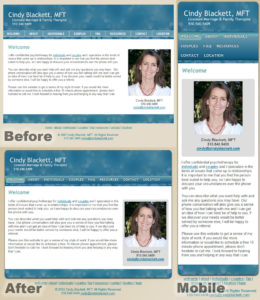 CindyBlackett.com has been converted from static HTML to WordPress allowing Cindy, a marriage and family therapist, to more easily update her site.
The custom WordPress theme we developed from the HTML design has several enhancements. We threw out the fixed width table layout and updated it to a fixed-to-fluid width layout responsive design that collapses into a single-column format on mobile devices with smaller screens and browsers supporting CSS3 media queries. It's a light-weight design comprised of 3 images complimented by CSS3 gradients, box shadows and text shadows. Some simple WordPress shortcodes were added to automatically update the year in the copyright text and widgets.
Cindy Blackett is a licensed Marriage and Family Therapist who specializes in relationship issues with both individuals and couples. She has experience working with a diverse range of people, including couples in mixed race/culture relationships and members of the LGBTQ community.